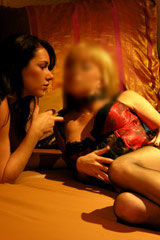 Want to let your hair down in beautiful, secluded and tranquil surroundings? Fancy sharing your holiday – and maybe yourselves - with a few other, like-minded couples? Then why not take a room in this night away, let us be your host & hostess while you relax around the pool, spa, or in the comfortable lounge or one of the superbly comfortable and spacious bedrooms. The four bedrooms allow for eight guests to mix and mingle to their hearts' content while we cater to your every need. Privacy and discretion guaranteed.

A secluded venue with other couples . . . sharing . . . mixing and mingling . . .? You could try all the things you've talked about with no risk of anyone finding out.

We can cater for & organise special events tailored to your requirements & fantasies.

For more information email functions@ladiesplayground.net.au or phone 0450 066 769.